Google Reviewer 2/27/2020
My family has purchased many vehicles from Scholtes Auto World and it's always been a pleasure to do so. Very quick, honest and helpful. Les is the best!

Google Reviewer 1/24/2019
Great people work in the service department, very helpful, reasonable shop rates.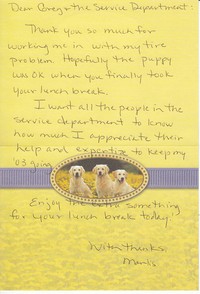 Marli A. - Worthington 9/1/2014
Dear Greg & the Service Department: Thank You so much for working me in with my tire problem. Hopefully the puppy was OK when you finally took your lunch break. I want all the people in the service department to know how much I appreciate their help and expertize to keep my '03 going. Enjoy the extra something for your lunch break today. Marli A.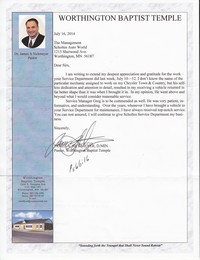 Dr James S. 7/16/2014
Dear Sirs, I am writing to extend my deepest appreciation and gratitude for the work your Service Department did last week, July 10--12. I don't know the name of the particular mechanic assigned to work on my Chrysler Town & Country, but his self-less dedication and attention to detail, resulted in my receiving a vehicle returned in far better shape than it was when I brought it in. In my opinion , He went above and beyond what I would consider reasonable service. Service Manager Greg is to be commended as well. We was very patient, informative, and understanding. Over the years, whenever I have brought a vehicle to your Service Department for maintenance, I have always received top-notch service. You can rest assured, I will continue to give Scholtes Service Department my business. Sincerely, James S., D.MIN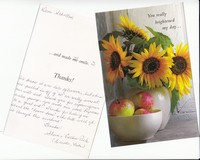 Steve & Esther T. - Lincoln NE 6/14/2013
Dear Scholtes, We know it was late afternoon, but when we pulled in off "60" we really were at our wits end. Thank you for replacing our water pump - you made our whole trip come to a great end !! Thanks for telling us about the "lower hose" & the belt - we'll get it changed this weekend ! Thanks! Steve & Esther T. ------------------------------------ Inside Cover says "NICE JOB DAN"